We are surrounded by sounds and sights. We touch and we taste. Such simple everyday wonders that we take for granted. For autistic people this world of sense can sometimes be overwhelming, sounds can be overly loud, lights too bright, touch too strong, tastes too sharp. People on the Autistic Spectrum will have atypical sensory perception but this can vary from mild to severe and relate to one or more types of sense.
Edward is often hypersensitive to touch and to a lesser extent sound. On the other hand extreme temperatures do not bother him at all.
As you can imagine we are the size of family who need a large vehicle. I drive around in a 7 seater, people carrier and feel like I am in a go-kart whenever I drive a normal car.
I often find myself transporting a multitude of small people; on one of these occasions I had 9 year old Edward in the passenger seat and a car load of 6 year old children in the back including Seb and Ivy.  As we were driving along Edward asked me, "Mum, do you know what my biggest personal problem is?". Aware that the kids in the back were able to over hear  I responded quietly, "No, but is now a good time to tell me? Do you want to tell me when we get home?". Edward said he would prefer to tell me right now. I braced myself for a tale of bullying, of him being ridiculed, of a lack of friends but was both relieved and surprised when he told me that the biggest problem in his life was his school trousers.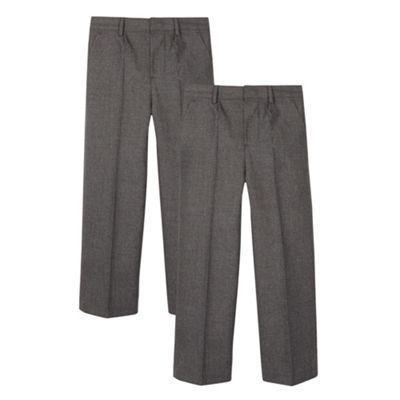 Edward, from a very early age was fussy about what clothes he would and would not wear and not from a fashion point of view. The main factor was comfort. From the ages of 4 to 13 jogging bottoms and T shirts were his second skin. I would notice other boys wearing jeans and chinos and then see Edward in his baggy out of shape joggers…. but I knew that it would be a battle, and one absolutely not worth having, to try and get him into different clothes. Zips, buttons, fastenings of any kind were a definite no. Clothes with unnecessary pockets were also rejected. Clothes were preferably plain or striped, and once purchased labels had to be cut out as they "felt wrong". However school uniform was school uniform so we made Edward  wear standard school trousers and got on with things.
Edward explained that when he was wearing his school trousers he got very distracted by them and couldn't stop thinking about the way they were rubbing into his skin especially the buttons on the inside of the adjustable waist band. We tried removing the buttons but apparently the trousers were still  excruciatingly uncomfortable.  I went into the school and explained to the teacher that when wearing school trousers Edward was spending a lot of time thinking about his trousers and fidgeting because of his discomfort and that this was surely going to get in the way of his learning. The teacher, a wise and understanding woman, suggested that a pair of grey jogging bottoms would be fine. She ended up with a less smartly dressed but happier pupil.
We never had to find out how flexible the high school would have been about jogging bottoms, as by then Edward had become able to tolerate waist bands. In the run up to high school I bought a range of different styles of school trousers trying to find a pair that Edward would be able to wear happily. Thankfully, after a very long search, with many failed attempts, we found some non adjustable trousers from BHS which were deemed acceptable.
Labels which come into contact with his skin still have to be removed and he still prefers plain clothing. He has not set foot inside a clothes shop for several years and we do all his shopping online. Having a slightly older teenage sister has been a god send;  with her input to my online shopping orders Edward is now dressing more like his peers. Although wearing of jeans remains vetoed.